Talking Things That Move with Bosch Rexroth's Vincent Stahlecker
Bosch Rexroth is in the business of things that move — from flight and autonomous driving simulators to hydraulics and electromechanics for bridges and ship locks.
As designers fascinated with mobility in all its forms, it should come at no surprise that MODYN has teamed up with Bosch Rexroth to design compelling, on-brand exteriors for some of their high-tech projects, as well as provide sketches to bring their inventions to life.
A true innovator, Bosch Rexroth has led the way with smart solutions and technological advances that help clients get ahead — their motto: 'We Move, You Win.' With so many interesting products and projects underway, we reached out to Marketing Manager Vincent Stahlecker, who's been with the company for well over a decade, to get insight on what Bosch Rexroth is working on now, and what they envision for the future.
Vincent Stahlecker, marketing manager at Bosch Rexroth
Talking technology, sustainability and the future
Vincent started working at Bosch Rexroth doing market research 14 years ago, working his way up to strategy and global campaigns. He even wrote about why he loves working for Bosch Rexroth, and their technology was at the top of his list. So we kicked off our call asking him what projects excite him the most.
"That's a great question. There are the motion platforms for flight simulation, like pilot training and cabin crew evacuation. There are also really big civil engineering projects. For example, our systems move and control some really large ship locks like the Panama canal, as well as the biggest ship lock in the world, right here in the Netherlands, the sea lock IJmuiden".
What are you working on right now?
"Right now there's a major focus on service and repairs for hydraulic cylinders, which can be 27-meters long or more, which is quite large. Motion compensation at sea for ships and vessels is also a really big focus for us. But, what I especially like from Bosch Rexroth right now is the support they're providing in energy transition. We have smart power management systems combining different energy sources like wind, solar and diesel which enable off-the-grid power supply."
Bosch Rexroth has a big history in the offshore Oil & Gas industry. So how important is it for the company to invest and work in the renewable energy sector?
"Sustainability has always been a topic. We have worked with industries that are less green, but still focusing on energy efficiency and emission reduction. On the other hand, we also focus on creating systems and machinery that are heading towards sustainability goals. So, we have both a direct and an indirect sustainability factor. We do still supply the Oil & Gas market with drive systems for things like heave compensation, but today's focus is more on offshore wind installation and service — which is a market we greatly support.
We also work on a lot of things that are being tested for future technologies at sea, like ocean and tidal energy. Similar to how you test ship models, these technologies are often being tested indoors in offshore basins, and Bosch-Rexroth also supplies drive control systems for this kind of testing. This is actually one of the examples of how we've worked with MOYDN."
Wave generator visualization
Speaking of MOYDN — as a marketing manager, it's your job to help establish Bosch Rexroth in the market, as well as get them more visibility. That means you've directly referenced work MODYN has done, whether that's the sketches that illustrate how your innovations look or the exteriors they design. So, in combination with the technology, how important would you say is the design work that goes alongside it?
"We offer premium products and, although over the complete lifetime this usually levels out, our prices may be regarded by the market as being premium as well. And even though we're working in technology, we're working with people, and people are attracted to good-looking products. From a marketing perspective, putting our products that have been redesigned next to real core, industrial products, you can see a world of difference.
And that's where our relationship with MODYN started, first with our motion simulation platforms. In the past, they were really industrial looking, and quite often our clients would need to display them in a visual area, where customers and trainees walked around. Being the first in the market to design a new look that's slick, clean and with our company colors, we are able to provide our end users with a look that is much more professional.
We also work with MODYN if we want to take an existing product and make it premium — they will make a nice illustration about it and how it could look, and we'll use that right in a sales pitch. Then if our customer likes it, we can actually think, 'Okay, what would the cost be to actually make something like this?' So we use them to help us test the market, too."
Bosch Rexroth is also working on autonomous driving simulators for companies like Renault and BMW. How do you see that future evolving?
"We do see that with the market contradiction of autonomous driving, these car manufacturers have a demand for testing, but also for training drivers to cope with autonomous driving, basically. And I think right now it's mainly used by these big car manufacturers and some larger testing facilities, but it's going to evolve and become more standardized for smaller markets.
But, the current status of the development of these training systems is already really top-notch. The systems we supplied are moving faster than anyone has ever done before — they have these accelerations that are unprecedented. So as for the future, we're not there yet, but we're working on it."
Autonomous driving simulator visualization for Renault
Circling back to some of the current projects you're working on right now, what does the future hold for these?
"Well, energy transition is going to continue to be a key topic. So looking into infrastructure, like civil engineering projects or construction projects, they will have to almost be energy neutral in the future. Here, there's a big need for smart solutions based on batteries and energy storage.
And in the offshore industry, I would hint at floating wind turbines and all operations that come with them. With this shift to floating wind turbines, you will also have a different kind of supply chain and way of transferring people there onto those big turbines for service operations. And this is really something we are working on as a company — to enable construction and service companies to get their people from a moving ship to a floating platform safely. We're even exploring this in an autonomous way, where computers, artificial intelligence and machine learning help us with all kinds of sensors onboard."
What are you most excited about in terms of the future of Bosch Rexroth?
"What I'm excited about is all the steps that Bosch Rexroth is taking in terms of upgrading the design of their systems and products — as well as the acceptance and willingness of the markets to adopt this. From our redesigned motion platforms to new looks for more industrial applications like ship lock drive systems, complete wave generators and products like electric actuators, our products are all becoming more visually attractive. And this is why we value our cooperation with MODYN and will most likely continue to do so in other cases in the future, too".
Big thanks to Vincent and Bosch Rexroth for taking the time to give us some key insight into their work and vision for the future. Feel free to connect with Vincent here and be sure to check out our case study with Bosch-Rexroth, too.
Visualization of a 6-DOF motion platform on top of an XY motion table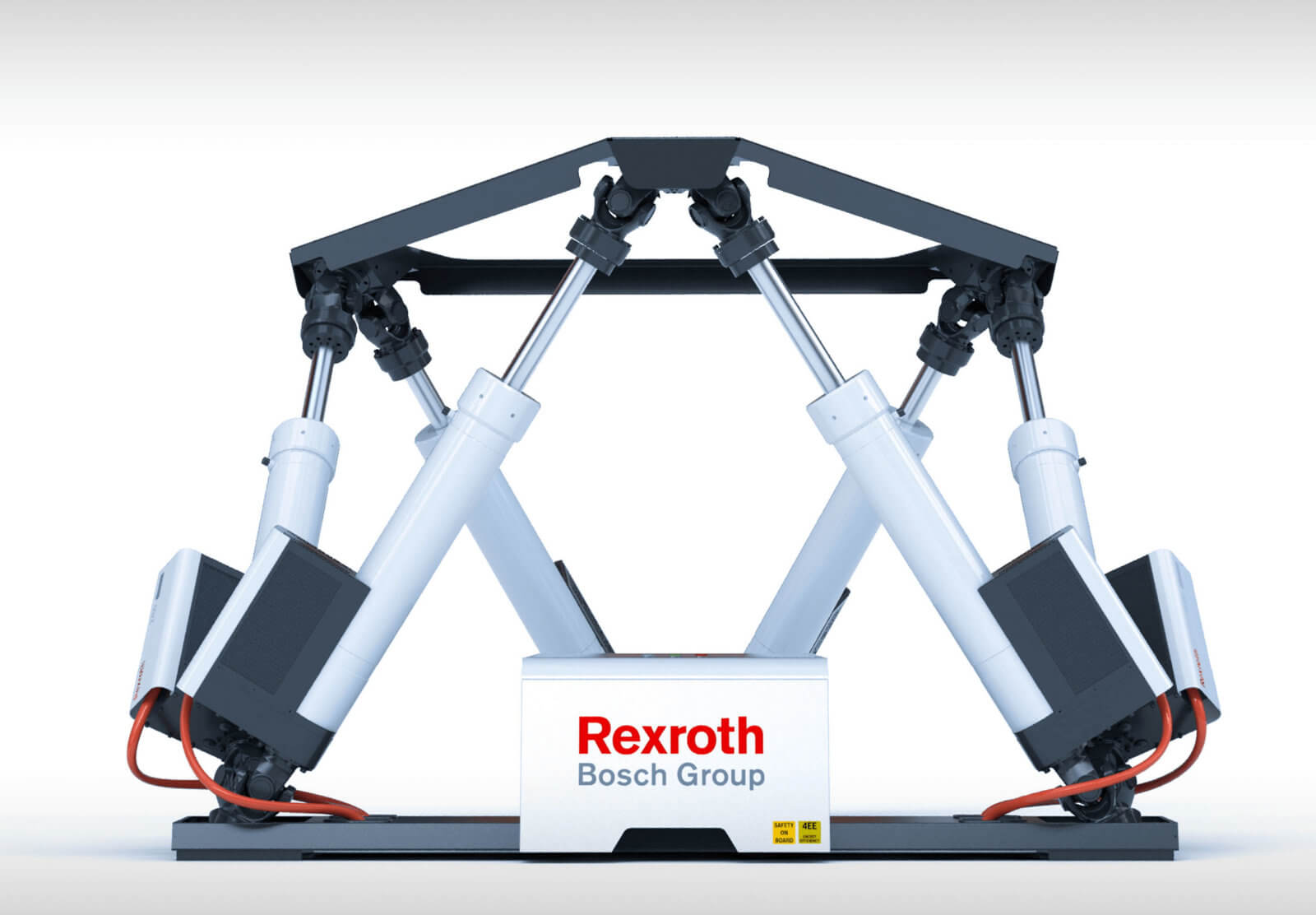 Bosch Rexroth eMotion 2700 motion platform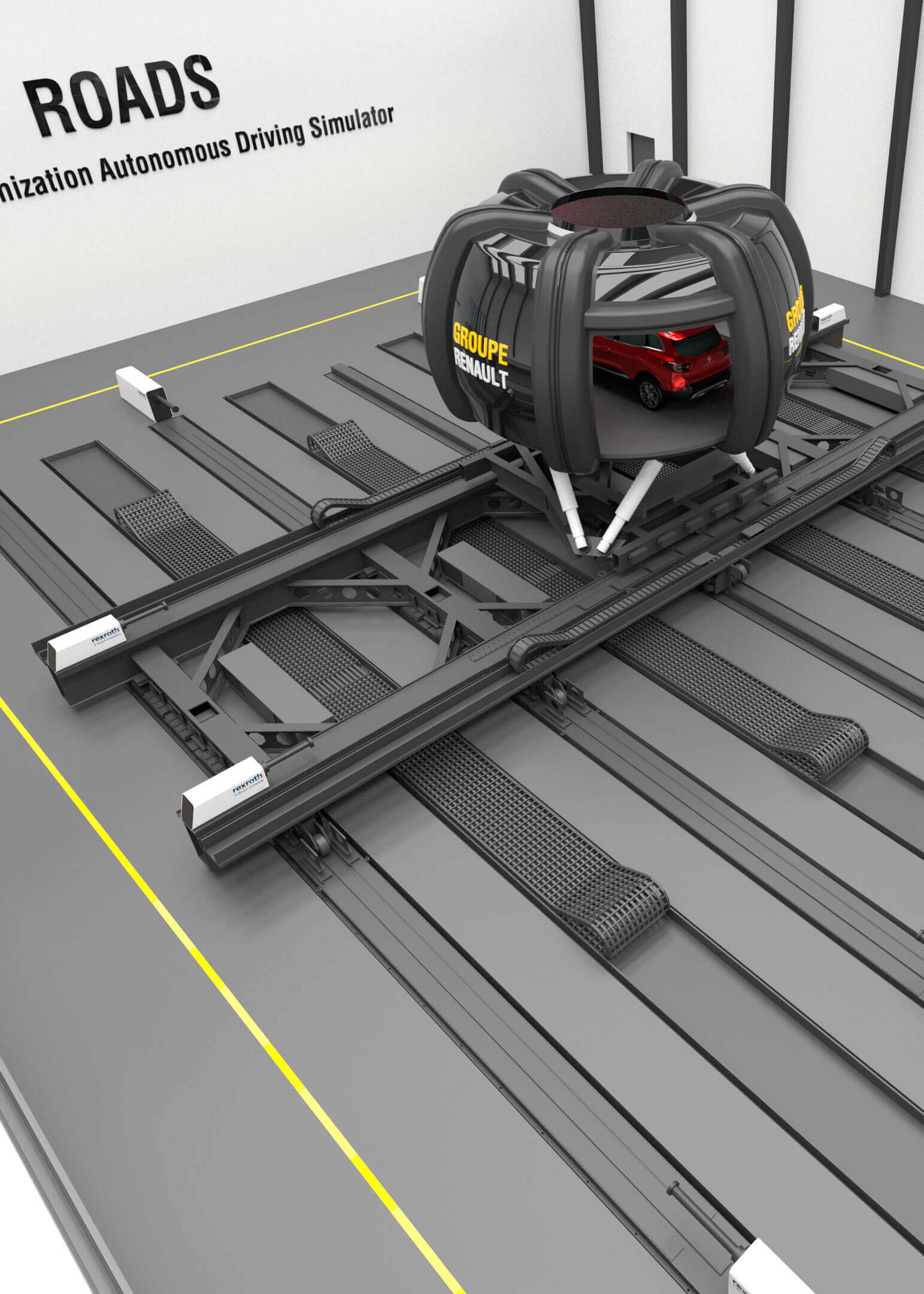 Visualization of a motion platform for Renault