Talking Gazelle, 30+ Years of Inspiration and New Eras
Wim van Dijk, our partner and head of CMF design, wasn't fazed by our new name. In fact, he's been here through all three name changes since the company started — first 'EN Design,' then 'Vanderveer Designers' and now MODYN.
Starting at the company in 1989, the earliest days of its inception, Wim has seen it all. He's seen it grow, become more global and take on exciting new clients. What hasn't changed, though, is his dedication to mobility design or his hands-on work with our client Royal Dutch Gazelle, who has been with us just as long as he has.
Here, we sit down with Wim to talk about working with a client for 30+ years, where the inspiration comes from and what's on the trail ahead.
After three decades and countless designs for Gazelle, where do you continue to get your inspiration from?
We have always looked at the world around us — what's in the cinema, what's in fashion, what's going on at the bike shows, Salon de Mobile in Milan, even what they're designing in the sporting goods industry. We take inspiration from the moment and find the best way to integrate that into the heritage of the Gazelle brand.
Why do you think Gazelle keeps working with us after all these years?
Well first, we've been working together for so long that the briefs for their project are, well, brief. After just a short conversation, we have enough direction to make a proper proposal, which makes us really easy to work with. We really speak the same language. Gazelle also trusts us and we keep eachother sharp. They know we will tell them the truth, steer them in the right direction and always work to put their best interests first.
Because we have worked together for so long, we also have meticulous notes about everything from proposals to color swatches over the years. MODYN is a valuable resource because over time people have left Gazelle, but we've been there, and we understand that important history of the designs. We remember what the dealers hated 10 years ago and what colors have already been tested, and that's an asset.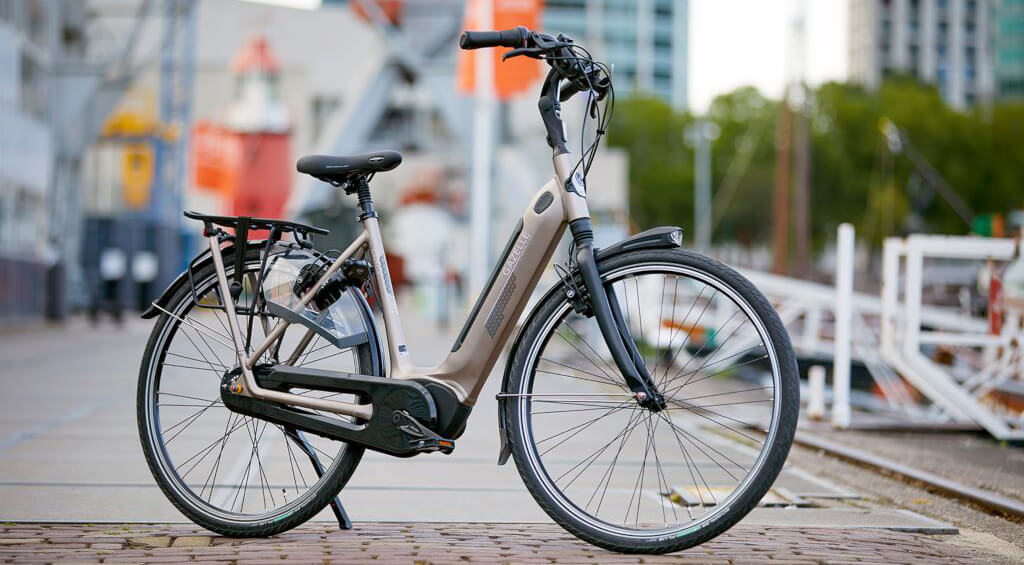 How do you think your long term relationship with Gazelle makes you a better designer for them?
As an account manager and senior designer for Gazelle for the past three decades, it's been both comforting and challenging. I really understand the history and heritage of the designs over these past three decades, so I know what's been done and what works and when to push it. But, we also have Marleen and other young designers working for Gazelle, and they provide a really fresh perspective that helps me, too. Gazelle really loves this approach.
Tell me about some of the biggest changes you've seen.
It is actually quite recently, but our switch to real time, 3D visualization with Autodesk VRED has been incredibly impactful. Before we did these digital styling mockups, we would have maybe 120 prototypes in our office yearly. Not joking! The trucks would bring in a hundred or more bikes in all the colors and we would do the decals here, too. Then we would invite Gazelle in to choose a handful of their favorites. Making the switch to 3D allows us to not only streamline the proposal process, but be more agile and make changes more quickly. It also cuts costs for Gazelle tremendously.
What about in terms of the bikes themselves?
The shift towards the e-bike has changed our work a lot, actually. These bikes are packed with technology and need a look that reflects how much more expensive they are than regular bikes. So actually with these projects, we're producing less. Our designs here are much more about meticulous yet subtle styling and graphics that emphasize the quality of the bike.
But because we aren't working on the sheer volume of styling projects there used to be, we've zeroed in on how to help Gazelle truly produce the best product possible. So we don't just design the decals, we speak to paint and detail suppliers, see what's new and better in the industry, and advise Gazelle on these materials. Our focus is really on quality.
What is your favorite part of working with them all these years?
I like to compare working with Gazelle to coaching for the national team. As designers, it's an honor to work for such an iconic, national brand.
It's inspiring to be on the street and see bicycles that my team and I have made. It is really crazy to me still. And when I see these bikes, I see 30 years of history and things made in this office. Everything from small graphics to elements of our vision projects come to life. That has actually always been my inspiration for working with Gazelle, the fact that these bikes are something so integrated into our lives and you can see everyday on the streets.
There have also been some big changes around here, too. How do you feel about entering this new era of MODYN?
This is such a positive change. We've grown so much, and I'm so proud to see how far we've come. You know, when we started, we had such big ambitions. Peter van der Veer (our founder) and I grew up in the hippie era, and with our work, we really wanted to make the world a better place.
It sounds corny, but that's the truth! And that is the reason we liked working in the mobility sector on projects like bikes for Gazelle and the railway. We always saw the positive impact we could make with our designs. And in this new phase as MODYN, I think we're at a point where we can make our biggest impacts yet.