Quinny
Zapp
The Smallest Foldable Buggy In The World
Case

Modernize the iconic Quinny Zapp for the current decade

Client

Dorel Juvenile

Industry

Strollers
MODYN's original design for the Zapp, which at the time was the smallest foldable buggy in the world, was hugely successful for Dorel Juvenile and became an important market innovation. But a decade later, Quinny was looking to update the Zapp with a more contemporary look and feel that would refresh the popular stroller. The modern Zapp also had to answer to new market trends, including the addition of a 4-wheel option, recline, and adaptability.
The Zapp is a key example of successful design management and product evolution. With a deep understanding of the modern market, as well as all of the character and functionality of the original Zapp, the MODYN team was the perfect partner to modernize the stroller. Updating the Zapp with new functionalities and contemporary lines allowed Quinny to leverage their existing investment as well as build upon the iconic heritage this stroller already had with consumers.
Digging
While the Zapp was becoming outdated, it still managed to hold a strong market share. But, the competition was starting to use more advanced materials and streamline the appearance of their comparative strollers. Our market research revealed we needed to update the Zapp with better materials, new integrated functionality and contemporary lines that appealed to modern parents.
Defining
MODYN and Quinny immediately agreed that we had to retain the friendly character of the Zapp while refining it to meet new standards. Iconic elements of the Zapp, like the large wheels, needed to be cherished but modernized. We also knew we wanted the stroller to look less mechanical, finding ways to seamlessly integrate connections and technical elements.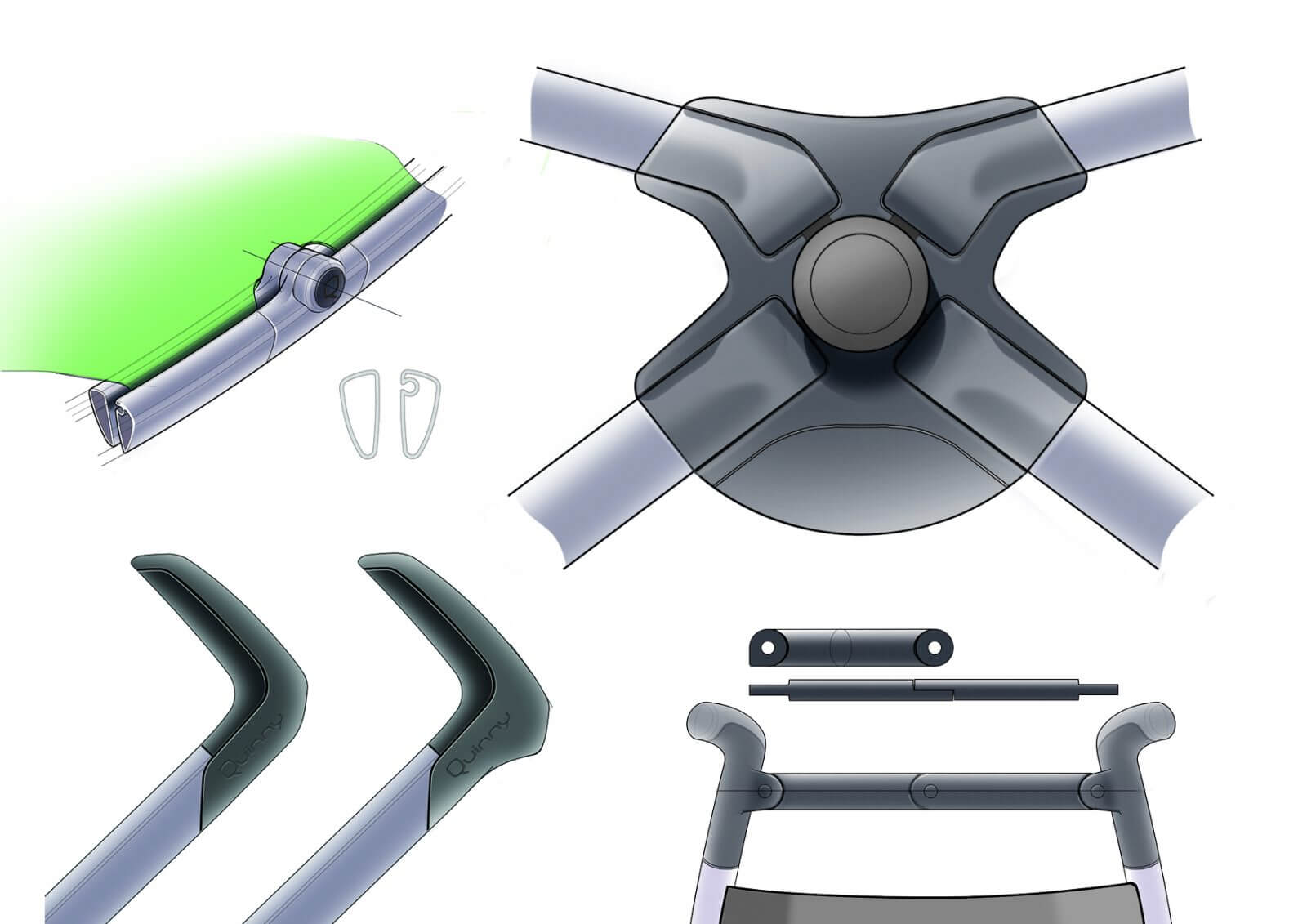 Designing
Our design focused on streamlining the lines of the Zapp. We sketched more defined and softer shapes for the tubes, blended the tires into the plastic hub, and integrated connections into the frame itself. Building models early on, alongside out sketches, allowed us and the Quinny team to really assess the new character of the Zapp. It also allowed us to test the functionality of new hinges and integrations which were imperative to the folding functionality.
Developing
With the design solidified, our 3D CAD modeling was used to optimize every new shape and make sure the stroller was functional and foldable. We also continued to work with Quinny through production and engineering, helping to ensure the design met safety standards and could adapt to production limitations.
2019
Baby Innovation Award Nominated
2019
What our client has to say
"What we really like is that, with MODYN, it was always a really smooth transition. It was clear what we wanted and how we wanted to do it and they were very efficient looking into both the design and the costs. "
"It was this way of working with them that stood out. Pragmatic. Down to earth. No empty words. Always a can-do approach."
Andrea Moerenhout, R&D Director Dorel Juvenile