Meet the team: Dennis
There's always a learning curve when you start a new job. But, not many of us can say we started a job amidst a pandemic — learning everything digitally, virtually and on the fly. Dennis Melkert, the newest Concept Engineer to join our team, is one of those resourceful and flexible employees, starting his internship with us just weeks before The Netherlands went into lockdown due to the Covid-19 virus.
"When I first started we weren't in lockdown yet and I could go to the office, which was great to get to know everyone and get started on the project," Dennis explained over video chat. "But then we had to go into lockdown and a lot of things went online and via Teams and Miro — which were actually great for collaboration. But what really stuck out to me was that even though I wasn't at the office, there was always that team feeling at MODYN, and everyone was involved. Everyone kept saying to me, 'If you have any questions come to me,' or 'I can show you this,' and that was really helpful."
When we sat down with Dennis virtually for this chat, he was still buzzing with the excitement of his graduation, which happened over another video call just hours before. We asked him about his graduation project, working with MODYN and what he envisions for the future.
So you just graduated with an Industrial Product Design degree. Congratulations! Did you know you always wanted to use this degree to work with mobility products?
"I didn't know that from the start. I really like product design and I actually thought I would never want to work for a company that designs for clients. I always liked the idea of designing my own products and working on those and getting them on the market. But, during my internship here at MODYN, I really began to like working with all different kinds of products and clients. And yeah, mobility, it never occurred to me that I would like it, but I really do. I think it's a interesting market with so many opportunities."
What was it about the experience of interning at MODYN that changed your mind about working for a design agency?
"I always thought that because you work for a client, you do a tiny bit of the project and then you lose touch with it. I initially liked the idea of working on your own products because you always have that connection back to it no matter the stage it's in. But now, I also see how interesting it is to continually work with different products and clients. It's all a bit faster, so you have to keep switching between those, and I think that really keeps me motivated."
As a young professional just entering the market then, it must be fascinating getting to work on such a wide variety of products. 
"Exactly. It's such a good experience. Plus, I get to work with, and learn from, people who have a lot of experience."
Tell me about your connection to mobility design. How has it evolved?
"My graduation project was actually a shopping trolly —which has a lot to do with the mobility of people in the supermarket and in the city center. There's this really big focus on its connection with people and how it's used. How do you get it compact enough so it fits in your car? What kind of situations do you get there? Throughout this project I really liked thinking about this human connection, the problem solving, and all the situations you get into with it. I love that with mobility products, you often use them in different times and different ways which makes it really interesting for product design."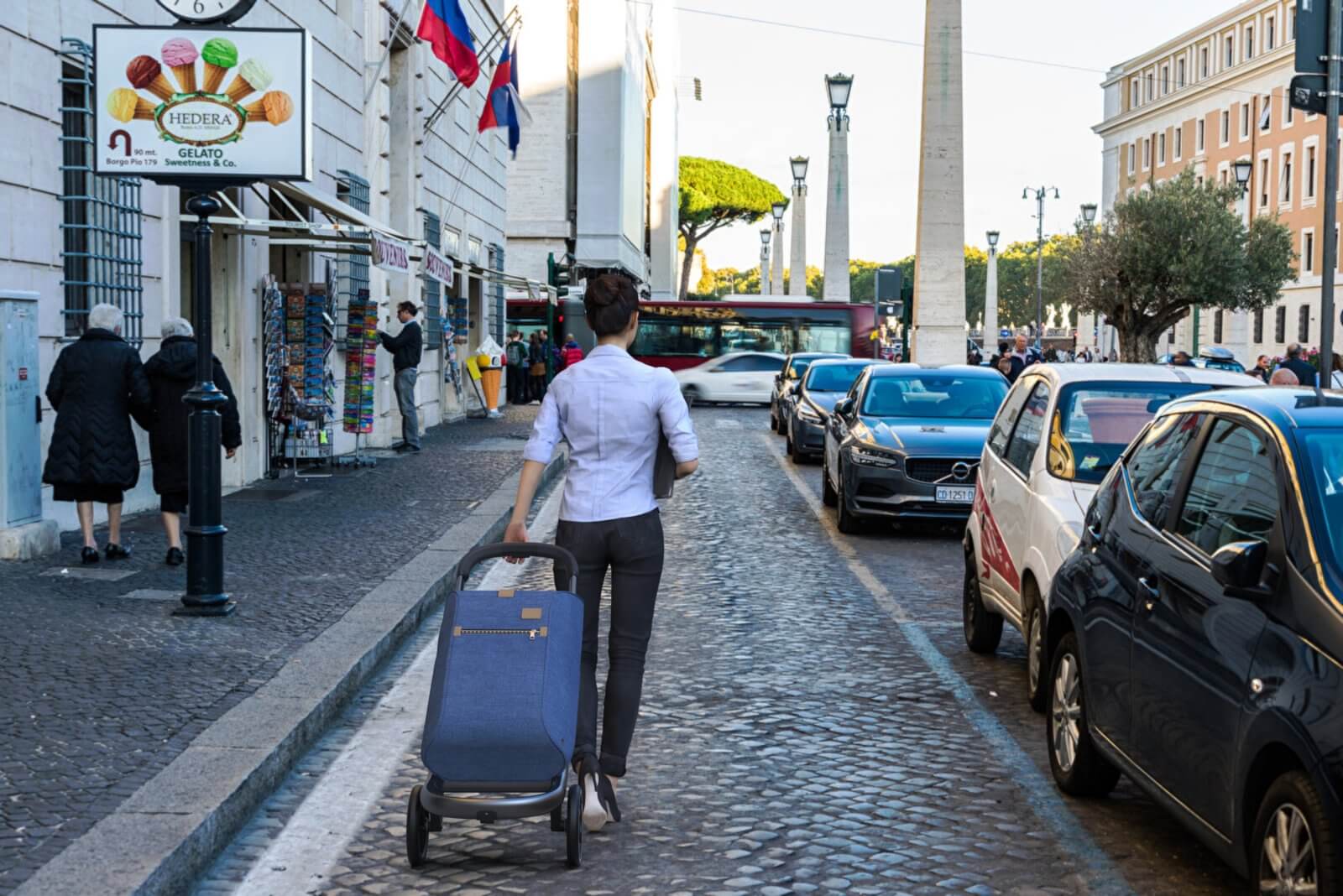 Why did you want to work for MODYN specifically?
"I think MODYN, in the design world, is a name that says a lot. They have a lot of experience, a lot of beautiful products already developed. So when they asked me if I was interested in working there, I was really hyped they wanted to have me. They're kind of a big deal!"
It must be exciting to be starting your career and coming into this company as it enters a new era, too. 
"Exactly. When I started they were still Vanderveer Designers. But during my internship I was involved more and more in the new name and branding. I think it fits them really well and the focus is more visible in this new name and website than it was before.
I would love to stay here and invest in the team and products and grow with the company. In five years I really hope to still be working here at MODYN. I really think I can learn a lot. I literally graduated today! So there is a lot to learn and from what I have seen, and I think this is the best place to do that."
Is there a certain mobility product you're excited to work on?
"I think that every product can be interesting to work on. You know, when I did the shopping trolly, I really didn't think it was going to be as interesting as it was. And right now here at MODYN, I am working on a stroller, which is a really interesting market with a lot of complex issues like the connection with the parent and child. This is challenging to get into the product, but that's what's fun about it. I guess for me, all these products are new and exciting! So I am really eager to see and learn about the challenges of each product and develop a lot of different kinds of products."
Is MODYN already picking up on some of your ideas?
"I've felt so well received here. From day one, they gave me the feeling that I was part of the team and not just an intern to give all the easy jobs to. They really listen, and they like to go into these brainstorming sessions with me and the others to extract ideas and listen to what we have to say.
What I really like at MODYN is that team feeling. They really just want to help you. You know, I was brand new, and I didn't know anyone, and they were just really helpful. But this is also what they do with their clients — make them feel like they are part of the team. So you're not only working for the client, but with the client. And I think that's a really important aspect of MODYN and their work-flow, and I like that."
What are you obsessed with in mobility design right now?
"I am more of an engineer than someone who works on the visual design and the shapes. But, I really like all those clever solutions in the handles and folding mechanisms — I find these really fascinating. I also think the increasing digital integrations are really important in the industry right now."
So when you're not working, where can we find you? What are your hobbies, or what do you like to do for fun?
"I love hiking and camping. I went to Scotland and England last year for a big hiking and camping trail trip. I also love running. 3D printing is also something I do regularly and is a hobby of mine!"
What was the last thing you printed?
"I actually printed the mechanism from my graduation project. And also, all kinds of different shapes, like a test print of a rocket. I really like to fine-tune the prints. It's also really useful for my work at MODYN. I know they already use this technology and I'm hoping I can help them with it, too."