Meet the team: Bas
At MODYN, we're proud to call ourselves more than a team, but a family. Bas Kleingeld, who's been with us for 17-years now, is someone who has grown the most with us. "When I started with the team it wasn't very big at all," Bas explained. "But everyone was very, very close. I was coming from another agency in Amsterdam at the time, and it was a huge change, being welcomed into this family."
All these years later, Bas has worked with us on countless projects, from Quinny strollers to Gazelle bikes and VDL buses and coaches. Now, after all this time together, we figured this was the perfect time to speak to Bas about his career, just as he wraps up one of the biggest projects he's worked on over the past five years — the New Gen Citea.
Unsurprisingly, Bas has been part of the core team that has worked with VDL Bus & Coach since the start, telling us, "While I wasn't closely involved in the branding of VDL Bus & Coach in the beginning, I did help develop 2D sketches into 3D models for our early designs." This time around, though, the 3D Surfacing & Visualization Specialist was much more hands on — but we'll circle back to that.
Pre-covid "fussball" game for good inspiration
So we know your title, but tell us what you do and what it's like working at MODYN.
Well, to be honest, I'm still taking 2D sketches and turning them into 3D models. But, the automotive side of what we're doing here at MODYN is what I enjoy most. As a kid, I was always talking about cars and playing with cars, and in a way, that's never changed. So, I'm really enthusiastic about the work we're doing now with partners like VDL.
I also really appreciate that I've gotten the chance to grow and evolve here at MODYN. They always encouraged me to try new techniques, like Virtual Reality and 3D printing. And it's not just me — we all get the opportunity to explore and expand our experience as designers. And I think that's really special.
Bas working on VDL Citea SLFA
Your connection to mobility design started when you were really young, then. When did you realize that it was more than just a hobby that you wanted to make it your career?
I didn't consciously make the decision. In fact, it started at the agency I was working for before MODYN — they were also very active in the bicycle industry and they did strollers as well. And I started working with them right after university and just kind of jumped into mobility. It wasn't really a conscious decision.
Then when I came to MODYN, I started working on strollers right from the beginning, gradually changing into bicycle parts, too. And in 2008 we started working for VDL Bus & Coach and that's when I really got into the design and engineering stuff, which is what I'm still doing at the moment. So, it's been a long journey with them and getting to know VDL very closely over all these years working together. We've designed a lot of busses together.
The VR studio with large projection wall in use
What do you think it is about mobility products that you love working on so much?
It's really seeing all the time and effort you put into a product actually being used in the everyday lives of people. Whether it's a bus or a child seat or a stroller, seeing that product we worked on out in the world feels good. You know, when I talk to friends, they tell me how much they love the Yepp on the back of their bike, for example. It's always so nice to get those compliments because I am so proud of my job and the work we do here at MODYN — and I'm always talking about it. Except those top secret projects, of course.
The New Gen Citea was one of those 'top secret projects' — right? Tell me about your involvement in this design.
At first I was watching from the sidelines as our team and the VDL team worked to figure out the design direction we wanted to go, but that entire time I was closely watching because I knew I'd have to translate all of these ideas into 3D. From there, I worked really closely with VDL on the surfacing — going from concept to visualization and then all the back and forth until we got it right. And it took a while to get there, but what I love about working with VDL so much is that it's really a team effort between all of us.
What was your favorite part of the process for the Next Gen Citea?
Well, during almost all of the phases we augmented our 3D designs into Virtual Reality for VDL. And we did this even in the earliest stages to ensure that all of the surfaces and proportions worked well. This was really important for decision making during the entire process, but also for helping stakeholders visualize what our designs would become. It was actually a lot of fun being in a room with a bunch of 'suits' looking at the bus in VR — I enjoyed seeing them understand the design on a much deeper level thanks to this technology.
Like we mentioned, you've worked on a lot of projects with VDL before. So, was the biggest difference on this latest project?
I loved working on the interior for the New Gen Citea because for the first time we got to start completely from scratch — that means all new components in the interior, including the drivers cabin. And being able to design this all together and create this new, really nice environment was such a fun challenge.
Now, I heard one of the newest updates to the cabin design was the curved walls — tell me about that design decision.
Yeah, that's funny because some details seemed very minor, like whether you have a flat sidewall or a curved one. Because if you look at it from a distance, you might think it doesn't make that much of a difference. But once we showed VDL in VR how the curved walls really changed the environment — how it made the space feel bigger and more inviting — it all came alive for them. And that was really cool, to see them understand it when we could bring it to life in this way. It was indeed a small change, but after the VR they understood it needed to be there.
What do you think the New Gen Citea stands for in terms of the VDL brand, but also the future of e-mobility?
I think it's evidence of the position VDL Bus & Coach are in — they were some of the first in the market to sell e-busses on such a large scale. And I think their involvement from the start says a lot. It also shows their knowledge of electrification and their dedication to making them lighter and more efficient. The New Gen Citea itself, while a new product, is also recognizable as a VDL bus, and I think that just reinforces their position.
Design wise as well, what do you think you and the team added to the conversation?
It's easy to draw a bus if you consider it in a very simple way. You can say it's just a brick-shaped box with four wheels on it. But, a great example is how we managed to use all the input on aerodynamics and work them into our design. We made sure the New Gen Citea was as aerodynamic as possible while still keeping with the VDL design language.
So what's your favorite feature of the New Gen Citea?
Well, I'm really proud of being able to translate all of the previous work we've done for VDL and the Citea and build upon that to create something new, but that's still in line with the brand.
work-in-progress rear view of the drivers area
work-in-progress side view of the drivers area
work-in-progress top view of the drivers area
New Generation Citea as introduced 27th of may 2021
When you're not designing the next big mobility products with your MODYN family, what are you up to?
Oh, I have so many hobbies! First of all, I really enjoy driving my old VW bus. She's from 1969, so she's really old, but in very good shape. I really like to go out with her and the family for a camping weekend, or even a holiday for a few weeks.
I also love mountain biking, and this year I'm joining a charity event that helps young boys with Muscular Dystrophy. So I'm training now, and this September my team and I will do a 7-day trip to raise money for research. It's about a hundred kilometers of mountain biking a day!
What are you obsessed with in mobility design right now?
To be honest, I'm really interested in electrification and green energy. I really like the way we can make these electric vehicles work, but obviously the energy itself doesn't come from environmentally-friendly sources, so I'd like to see that evolve. I really want to see electric vehicles become more accessible to people, too. And I think this is an exciting time because with electric vehicles we're losing all these large components and gaining more space, being more efficient.
Finally, what's your dream project to work on?
I would really like to work on a passenger car someday. As a boy, I always drew cars. I don't do it much anymore because I'm into 3D, but I would really love to do some modeling for a passenger car. But for now, I'm too occupied with all of my hobbies and my family!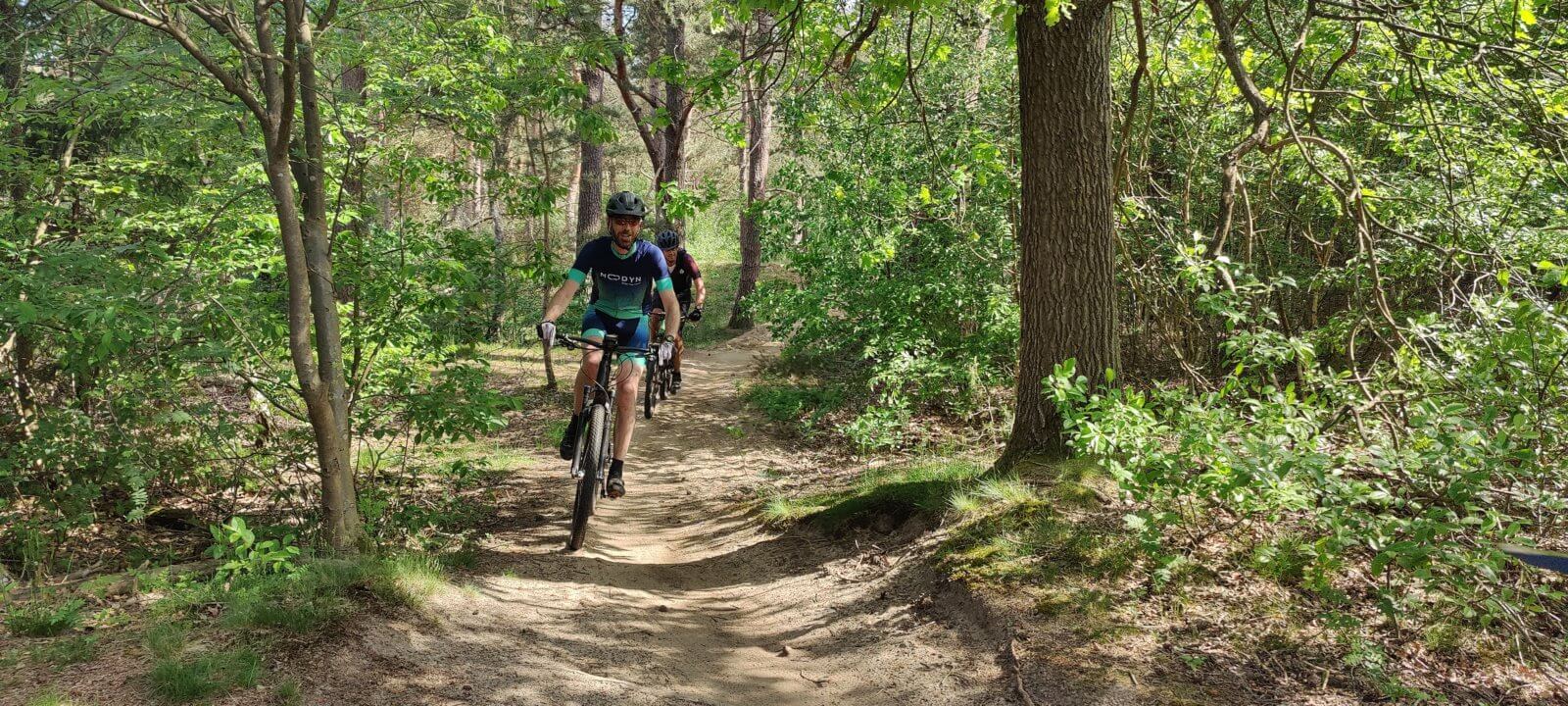 Bas enjoying mountainbiking in the forest
This picture featured in AD weekend magazine