(Digital) Design That Moves: MODYN's Rebrand
The biggest part of our rebrand in 2020 was creating our new website. Of course, as designers, we had our own ideas about our new visual branding. But, we also knew we needed help. For decades we had been Vanderveer Designers. Now as MODYN, we were taking on an entirely new identity from the inside out — one that dared to be bolder.
Working alongside the creative team at Lama Lama, we embarked on a journey to define and refine our new brand. Now, it was us sitting in the passenger seat, giving Lama Lama the directions instead of steering the design. First, we sat down for a workshop together to talk through our new positioning. Then, we worked with the Lama Lama team to bring our new brand to life, closely collaborating throughout the design and development process.
A big part of our new branding is about being much more open — showing you our thoughts, processes and developments. So now we want to give you that same insight, just this time right into our own brand. To walk you through the project we sat down with Jort Boot, the Creative Director at Lama Lama, who steered this project forward.
New name, new identity
Our new name, a play on mobility and dynamics, became the center of our new identity. With a clear focus on the mobility sector, MODYN's mission was to create 'design that moves' people and businesses forward.
Lama Lama took this and ran with it, creating a dynamic logo that was always on the move — just like us. "We opted for a striking, fresh and unique color palette with a strong typography that aligns with the new brand beliefs," Jort Boot, the Creative Director at Lama Lama, told us over a video call and coffee this week. "The visitor must be triggered by the new identity and become part of this immersive experience, so we did that with this dynamic 'O' in the name. The way it moves and changes shape immediately draws you in and speaks to the very essence of this brand."
(Photos displayed are drafts, giving you an inside look at the Lama Lama x MODYN design process)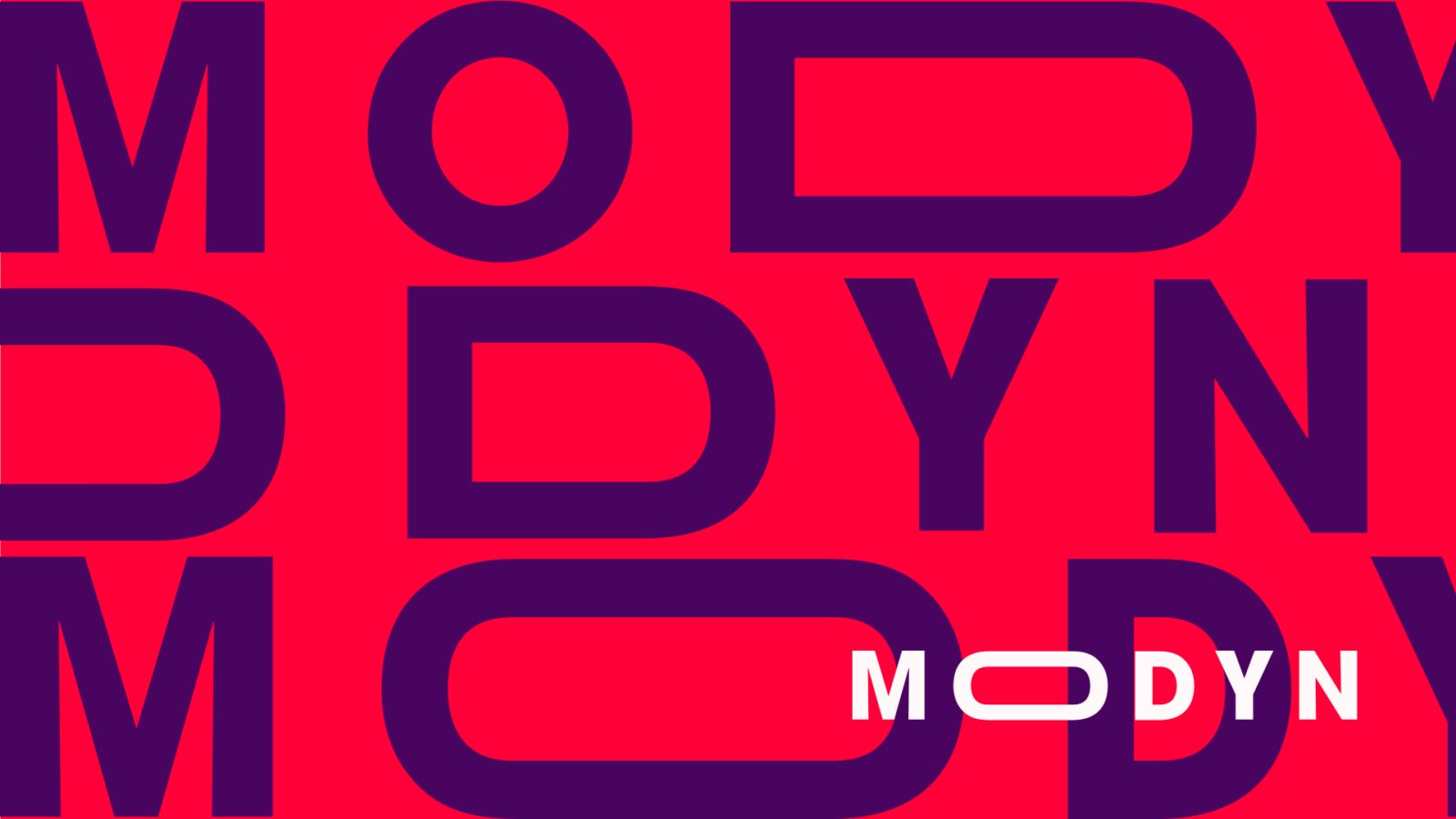 (Digital) design that moves
We loved the idea of the dynamic logo and Lama Lama wanted to push it even further, incorporating this moving shape across the website. "Movement and experience were central to our design here," Jort told us. On the homepage, different colored dynamic MODYN 'O' shapes draw your eye, and attention, down through the content. As you switch pages, the way the text floats in, or the menu retracts out, subtly but effectively conveys our constant movement.
"When visiting the website, we wanted to ensure the user felt the energy and playfulness. But, we were also cognizant that they had to be inspired by the content and cases, too. So, the business-facing side of the website also had to stand out. We worked hard to ensure a balance between the two."
To do this, Lama Lama strategized completely custom Case pages that highlighted our content dynamically and effectively — our favorite feature being the elongated 'O' shape that moves down the page as you scroll through our Digging, Defining, Designing and Developing section. As you scroll past each section, the photo changes, showing off sketches, prototypes and finished products.
The power of designers working together
As designers, it would have been easy for us to say we could take this on ourselves. But, having the ability to bounce ideas off other designers, creatives and strategists who were able to critically think about our brand, helped us define and refine it further. We pushed Lama Lama, but they pushed us forward in a lot of ways, too.
"MODYN's website has a lot of content, but our design ensures the visitor does not feel like it is a large website. However, at one point, we still felt like there was something missing and pitched the idea of the Playground," Jort explained. "While this was even more content, we advised the Playground because it allows you to see and feel their passion for design, as well as feel the DNA of MODYN."
This collaboration of designers working with designers felt great on both ends. "With the feedback, each time our design got better. For us, it was a really nice collaboration because designers working with designers always make the best work."
Big thanks to the Lama Lama team for all their help in developing our new website and brand identity! You can check out more of their work over at https://lamalama.nl/