VDL
New Gen Citea
The Electric Bus Driving The Future
Case

A design that captures the excitement of the moment while creating a lasting impression on the market

Client

VDL Bus & Coach

Industry

Public Transport Buses & Coaches
Back in 2012, MODYN designed VDL's first electric bus, the Citea SLFA-e. But, when the Dutch bus and coach brand developed their new powerful batteries and electric drive system, they knew they needed a new futureproof design for their bus to usher in this new era of technology. As longtime partners who rebranded the company and designed many busses for VDL, MODYN was brought on to help design this next generation of Citea busses — this time starting completely from scratch.
Working with the new compact electric drive system that freed up space, VDL and MODYN started completely fresh, taking a novel approach to the interior that made the cabin feel bigger, designing a new state-of-the-art aerodynamic exterior and developing a best-in-class drivers compartment. Taking inspiration directly from cities themselves — looking at interior architecture rather than automotive design — the concept for the New Gen Citea carefully balances the VDL brand and Citea heritage with modernity and timelessness, creating an exciting feel that will age gracefully over its 20+year lifespan.
Digging
With the New Gen Citea we had all-new design parameters, like larger cabin space thanks to smaller electric batteries and a compact drivetrain. This gave us the opportunity to design new solutions to age-old problems like passenger flow, accessibility and getting people on and off the bus faster — all which we researched extensively before getting started.
Defining
Normally we would look to the automotive and truck industry for inspiration. But, as one of the first brands to bring an all-electric bus to market, VDL knew they wanted the New Gen Citea to have a totally different feel. In this early stage, we decided cities themselves would be our inspiration — looking to architecture, cityscapes and public space to derive new simple and clean lines for our design.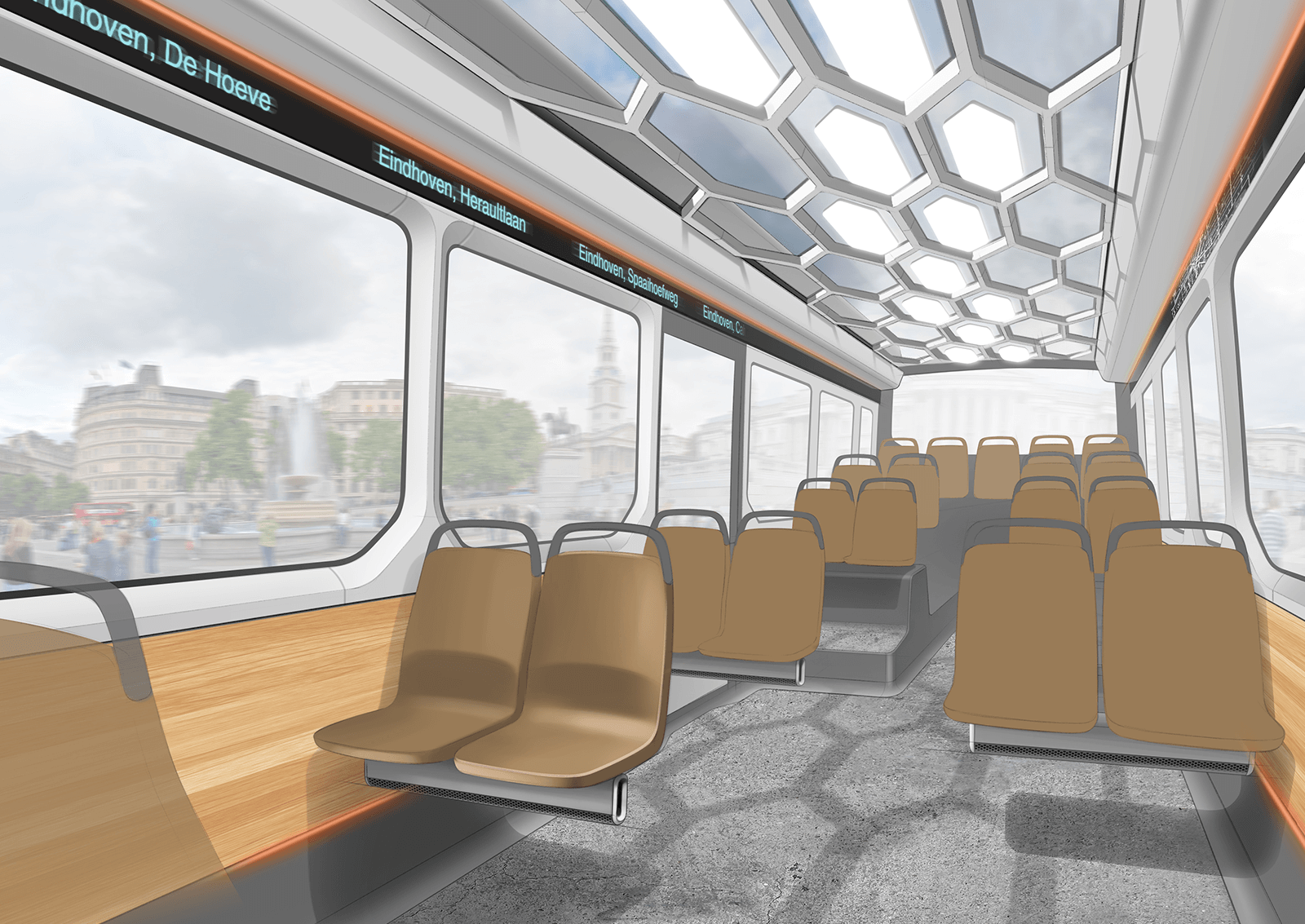 Designing
MODYN was brought in at the earliest stages of the New Gen Citea, allowing us to give input on important design elements before the engineering had been finalized. This allowed us to design compelling new features, like curved sidewalls that create much more visual space than typical vertical bus walls.
Developing
We presented VDL with 3D CAD modeling, as well as utilized our Virtual Reality simulators to illustrate the scale of the bus, detail how the reflections shine and show how you can move around the cabin. But, VR also allowed us to design for new problems, like ensuring the drivers cabin also met the ergonomic needs of women drivers who are typically smaller.
New Generation Citea exterior front view
What our client has to say
"When working with MODYN, we only have to give them half a briefing and they can already get started and know what we mean and what we want. They also have a really good grasp of what we can do from the engineering side, and that understanding of the technicalities helps them deliver designs that already take into account these demands. "
"MODYN is also really flexible, and they can jump in at any stage of the project to help."
Bram Veendrick, Product Designer / Design Manager at VDL ETS
New Generation Citea interior view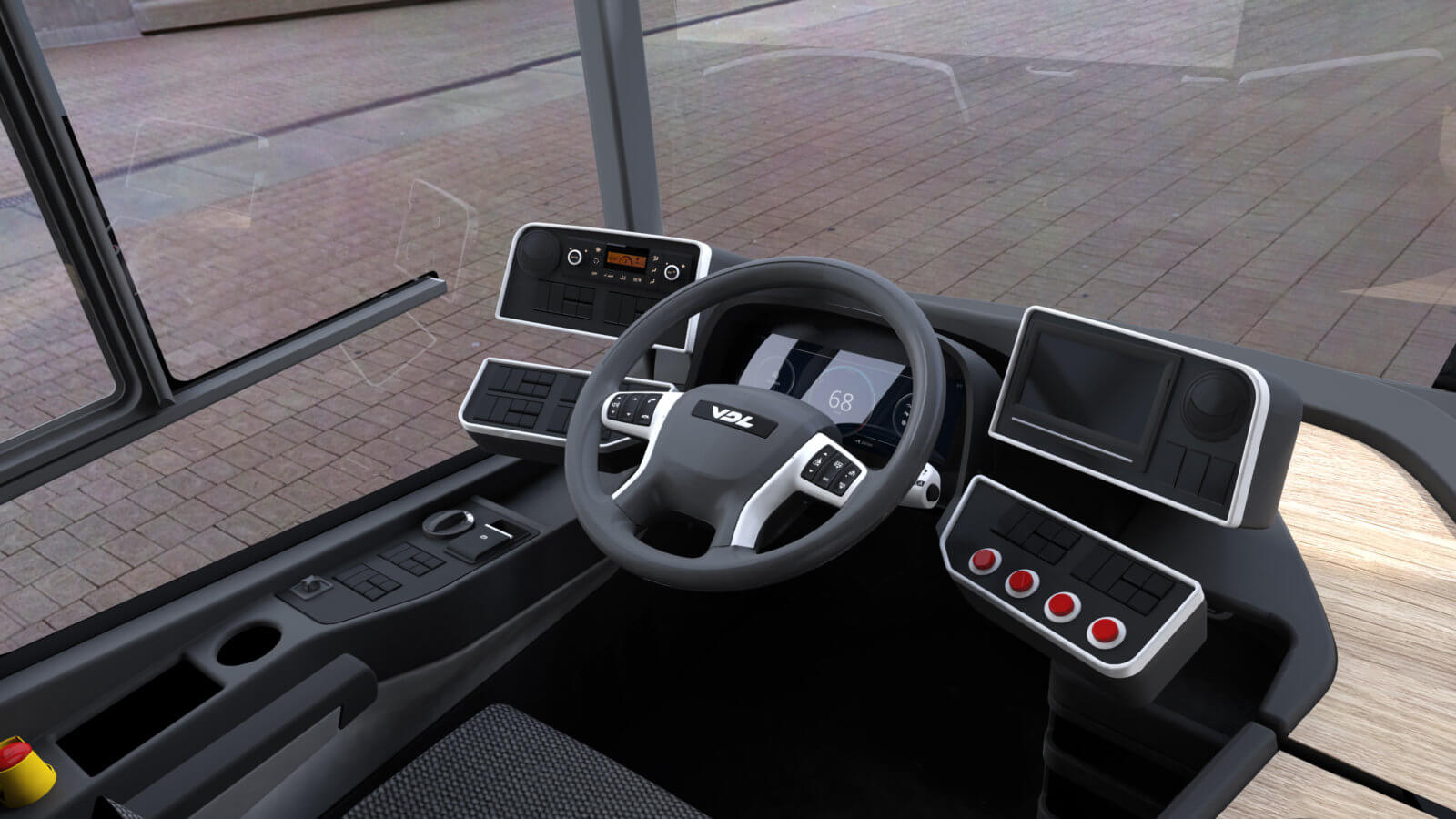 New Generation Citea drivers cockpit
"Working so closely with VDL Bus & Coach but also with VDL ETS, VDL Bus Heerenveen and VDL Bus Roeselare gave us a real feeling of belonging!"
"Very satisfying indeed!"
Rik de Reuver, head of Product Design at MODYN
New Generation Citea exterior front view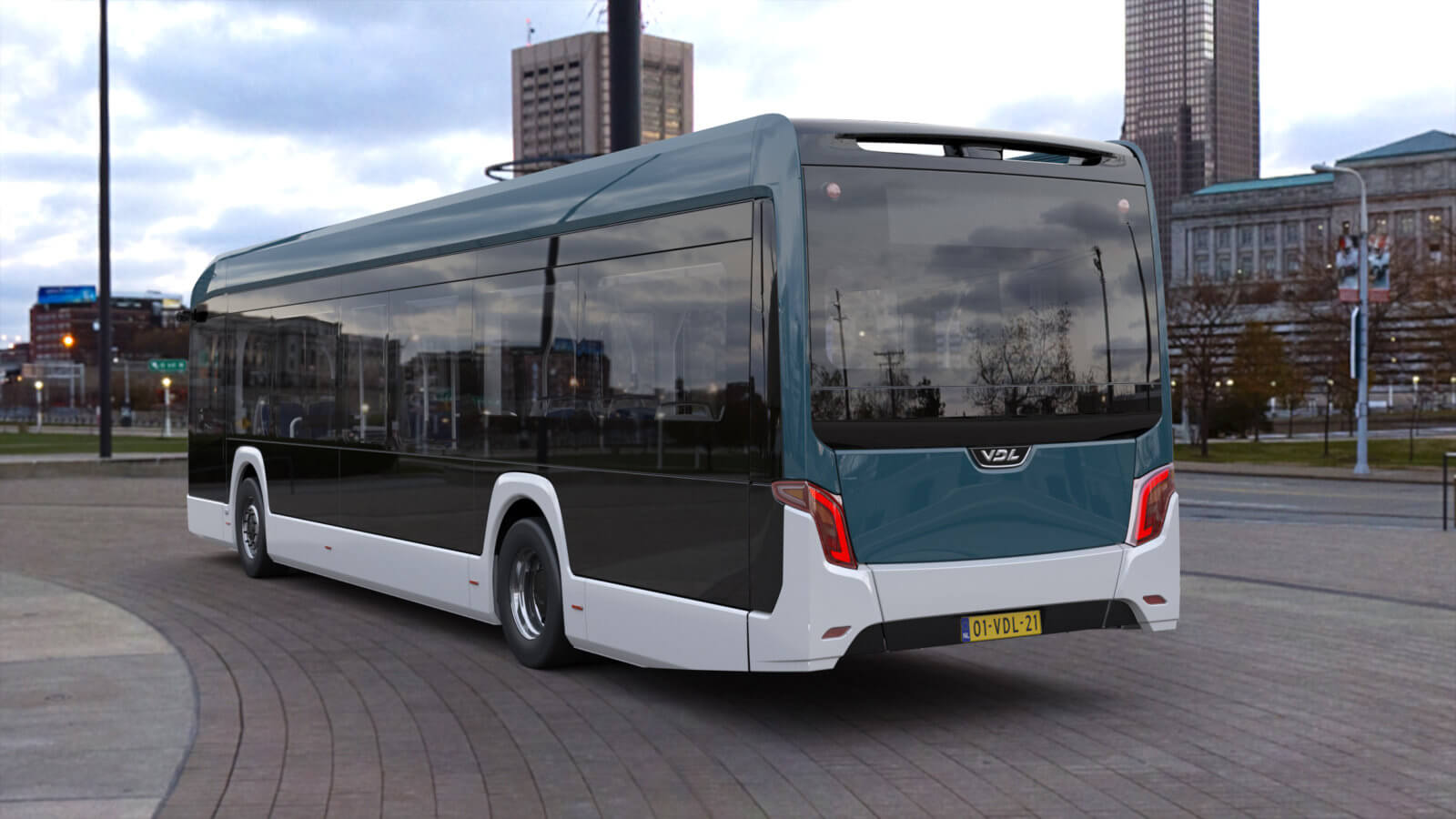 New Generation Citea exterior rear view