Thule
Yepp Original
The Iconic Child's Bike Seat
Case

Design a children's bike seat that is more modern and innovative than anything else on the market

Client

Thule

Industry

Bike / Juvenile

Awards

Red Dot Design Award, iF Design Award
GMG was an established brand that had been producing children's bike seats for decades. But under new leadership — which later led to an acquisition by Thule — GMG wanted to create a novel product that would reposition them as market leaders. At the time, children's bike seats were still largely made of bulky plastics, heavy metals and uncomfortable shapes. Our challenge was to create something that was safe, lightweight and comfortable while being surprisingly innovative and design-forward.
MODYN's royalty structure with GMG allowed the bike seat maker to invest more capital into the fast-paced production and marketing that was needed to get the Yepp developed in just a year. The partnership and intimate collaboration resulted in the Yepp becoming one of the best-selling children's bike seats in the world — the quirky design becoming instantly iconic. The use of the lightweight, supportive and colorful EVA material was also a major market innovation unmatched by anyone else at the time, giving parents an option where form truly met function.
Digging
When looking at the market, we found that children's bike seat design hadn't been improved in years. Plastic seats and metal frames looked and felt bulky. Buckles and foot-rests weren't intuitive to use. And the only real solution to a more comfortable seat was padded inserts that got wet, dirty and even lost as parents and kids ripped them out.
Defining
We quickly realized that to make a children's bike seat that was more comfortable, lightweight and safe, we needed to use a new material. It was also important for us to distinguish the Yepp from the rest of the market with a design that would be instantly recognizable and iconic.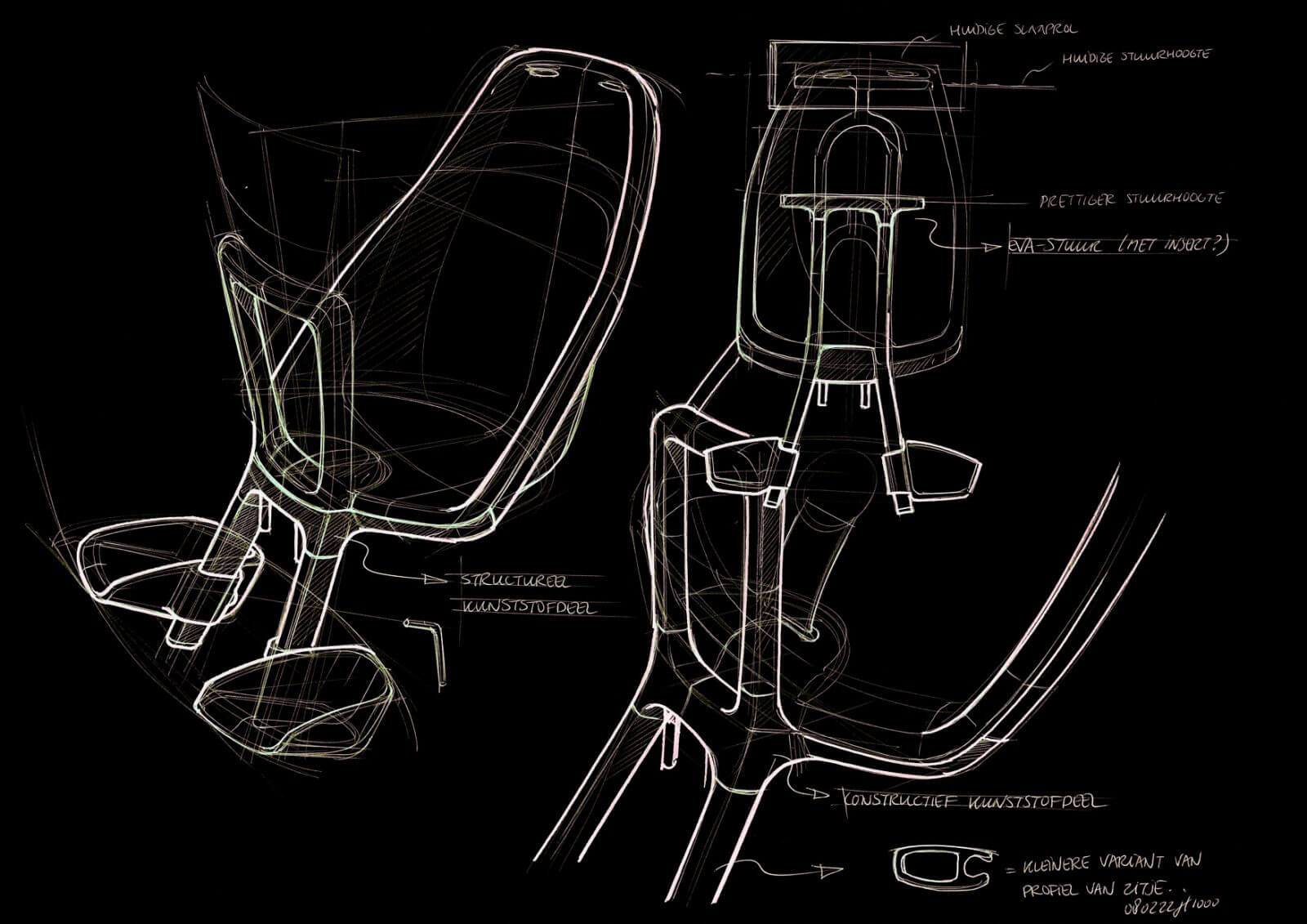 Designing
Taking inspiration from other segments that were creatively using EVA, we quickly realized this lightweight, weather-proof and comfortable material would be the perfect material for our design. We sketched a shape that was curvy and embracing like the material itself. We also started modeling early on, allowing us to quickly and continually develop the look and feel of the seat.
Developing
We finally settled on a single line that flowed from the top to the bottom of the seat, providing both structural support and a beautiful appeal. Our team worked alongside GMG through product development, ensuring character lines like this one met safety standards and were intact through production. We also worked directly with our production partners to perfect the application of EVA material in this new way.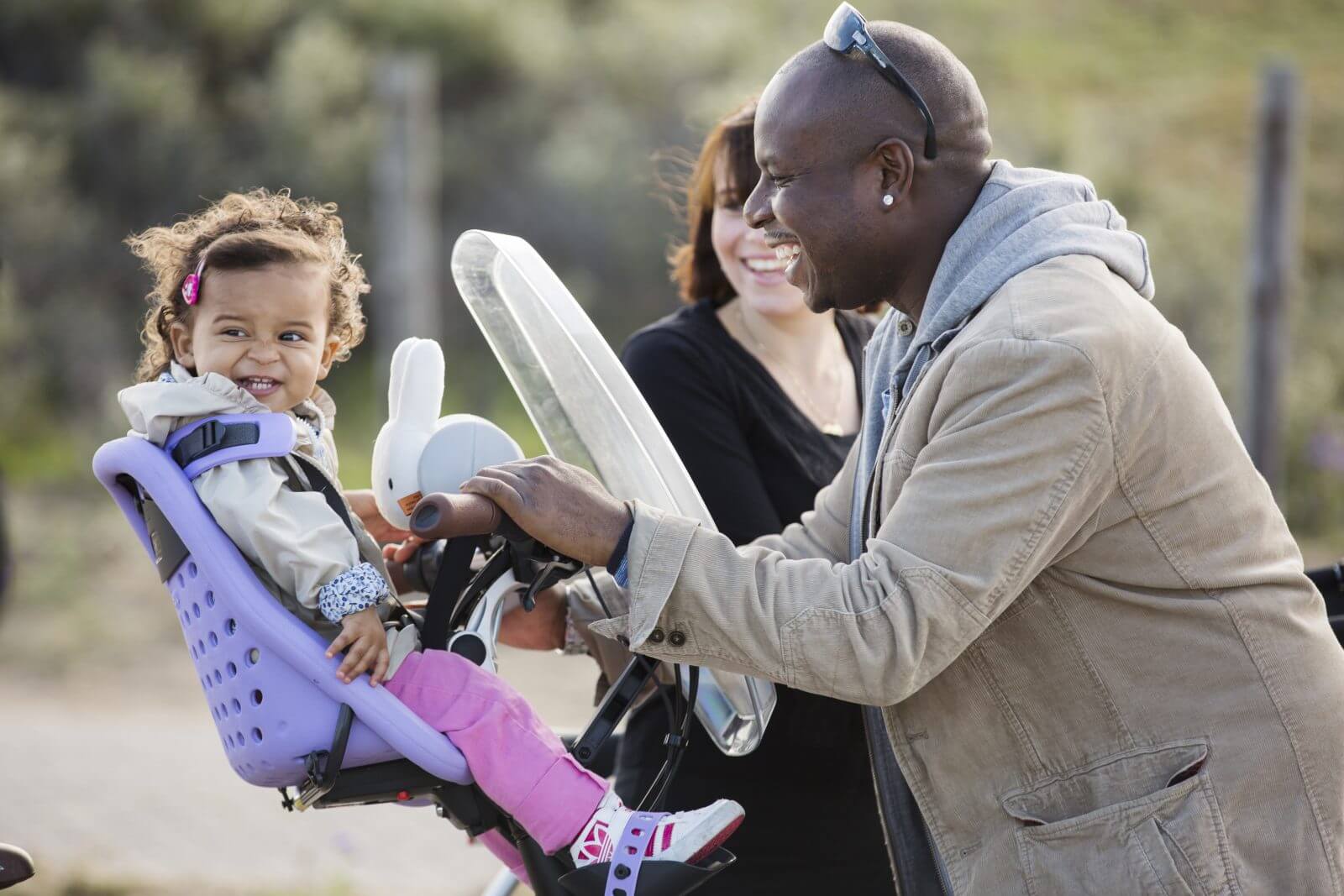 2009
2010
GIO Good Industrial Design
2009
2010
2011
2011
Design Management Europe Award (DME)
2012
2013
Consumentenbond Best in test
2014
2014
Chicago Good Design Award
2014
Taenk Safety Test Best in Test
2018
What our client has to say
"In terms of design — they pushed me, and I loved it. "
"They were driven by enthusiasm and came up with so many interesting ideas. Of course, not all of them made it to production, but they were always showing me new ways to look at things and surprising me with new ideas."
Michel Krechting, former CEO of GMG