Meet the team: Bart
MODYN has proven to be more than a team, but a community, on more than one occasion. With a network that spans generations of designers, we've met our employees while teaching, through old colleagues and good industry friends. In fact, that's also how we were first introduced to Bart Heijt, one of our concept designers.
"Unfortunately, at my last job, which was at an automotive company, they just couldn't extend my contract. So even though I loved the job, my team and my boss, it just wasn't the right timing," Bart explained. "Lucky for me, there was someone at the company who heard about my position and reached out to their good friend, who worked at a mobility design company, which turned out to be MODYN."
Bart instantly fit in here with our group of mobility fanatics. With a bachelors from TU Delft in Industrial Design Engineering, as well as a masters in Transportation and Car Design from Scuola Politecnica di Design in Milan, he told us he's always had a 'thing' for things that move. He also admitted his mom even has photos of him drawing cars when he was just four years old, "The passion was just always there."
Where we pick up in the interview, Bart tells us more about his position, his favorite projects to work on and his industry forecasts. Plus, Bart explains what it's been like to start at a new company during a pandemic.
So Bart, we know your job title. But, tell us what you do at MODYN. What's your day to day like?
I do all kinds of stuff — it's very hands on. I come up with ideas and sketch out how things work. But, I also do market research and background stories for projects we're working on, as well as research people and how they'll use a product. Next to that, I also specialize in taking the sketches we're developing and turning them into 3D models — this is a really important skill I picked up while working in the automotive industry. Really, what I do is take our ideas and help turn them into reality.
What is your favorite part about the job?
It's creative and I'm always working on multiple projects, which means I'm always doing something different. That's really nice because it's not a typical desk job. What I also love is that every day you learn more — about the environment, how people connect, how people use products, and how to design for that. And that's really important to me because I'm always looking for ways to improve and grow. I believe that as a designer, you're never done learning.
You know, I'm actually an engineer, but that's the part of the job I dislike the most. However, understanding the engineering is so important to the job. You need to know what you came up with is actually possible to make, and can really work. The fundamentals are really important.
Previously you've worked on everything from scooters to trucks. Do you have a favorite kind of mobility product you like to work on?
I would actually say it's more about the process. For example, right now the process of thinking of digital integrations, and the mobility industry's adoption of electric motors are huge. UX/UI design is also really important and becoming more integrated in everyday life. You know, we actually did research on this and looked at Generation Z. And for them, technology and their digital lives aren't separate from them, but really a part of their identity. Right now, we know these digital integrations are bound to happen on a bigger scale, but in what way, we still have to see. It's really interesting to think about, especially from a design perspective, because we have to think about how to integrate this into the product.
Of course, I've always loved cars. So for me, the automotive angle is obviously really interesting, because a car isn't just one product. It's all these different products together — ergonomics of the seats, the multimedia systems, the digital services, the aerodynamics of the outside. For me, this is the product where everything comes together — from lighting to interaction to tactile feelings.
Why were you interested in working for MODYN?
Of course, when I found out I was going to be introduced to Rik and Gert-Jan I did my research, and I saw that MODYN was doing really fresh designs which was exciting. But besides that, when I went into that first interview, it felt so natural and so good that the choice was simple in the end.
Now, a year later, MODYN truly feels like a family. You can ask anyone anything and they'll be very personal with you and that's very nice. There's not a fixed way of doing things here, so if I still have questions about a project, everyone's willing to help. I like that it's dynamic here and you have to adapt. Working at a small company there's also no need to be bureaucratic or go through the ranks. You have room here to explore.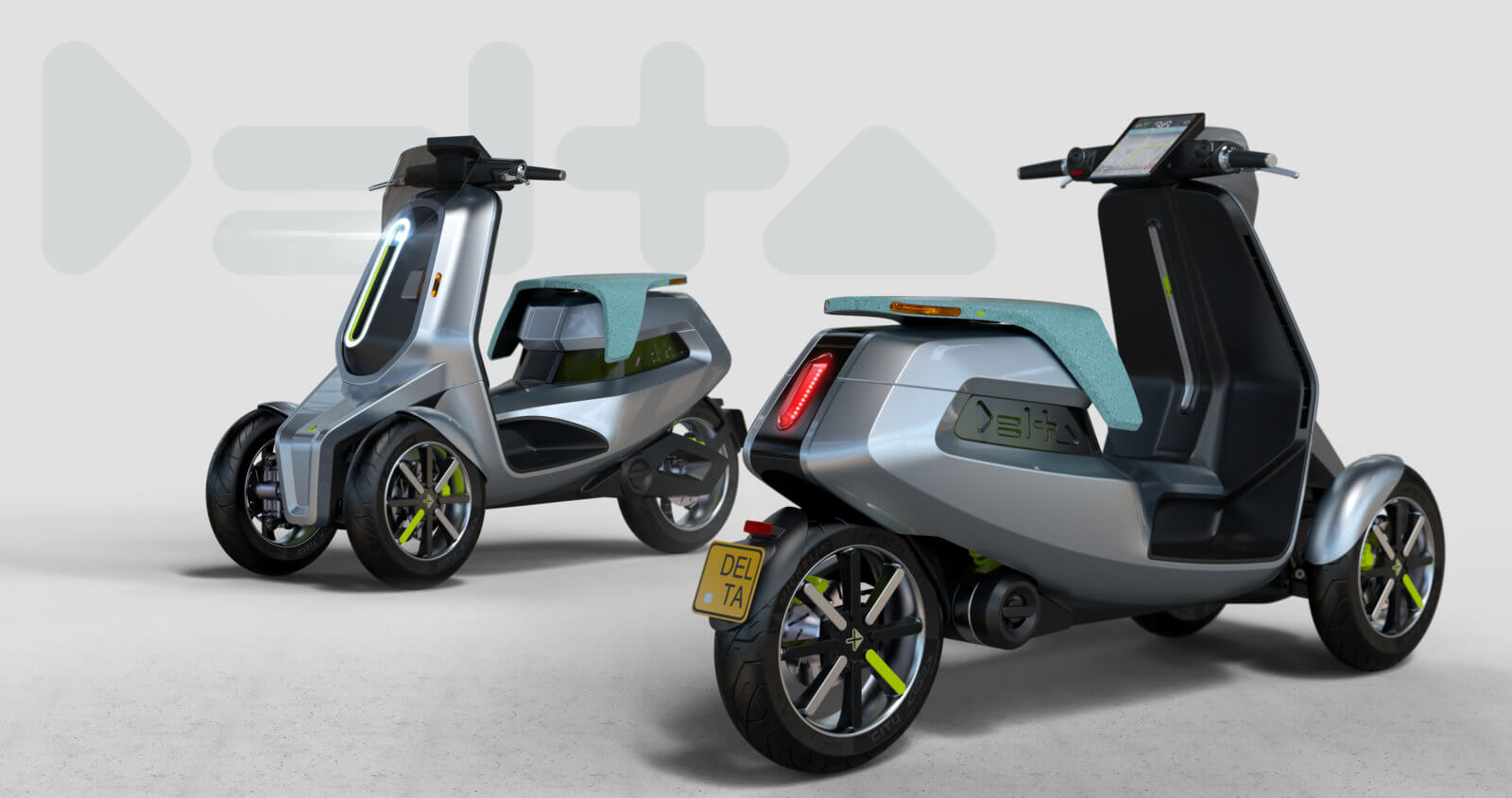 You also started at MODYN right before the lockdown, right?
Yes! It was the end of February, so I worked there one week, then went on my winter sport holiday and came back and we had to work from home. It was such a strange time. But the nice thing is that ever since, every morning we've had a call with the whole team. It's about a half hour of just chatting about everyday stuff and some work. But, it keeps everyone connected, and it's also really helped me get to know the team during a time when I physically couldn't be there to get to know my colleagues.
What are you obsessed with in mobility design right now?
I think the transition to electric and autonomous vehicles is really exciting. One of the biggest challenges is that you lose some old feelings, like the engine sound and being in control. But I think this is also a huge opportunity to map out a new direction for the industry. Right now you see a lot of companies are struggling to find this new identity, too. Tesla, for example, is really strong digitally, and that's a point where they excel. And I think all companies are searching for their own thing that makes them special. And as designers, we can really help them make this transition.
As designers, we also have the opportunity to help people fall in love with these cars. You know, petrolheads as we know them are going to disappear. But, we should come up with a new vibe to replace it. We're on the cusp of something totally new here, and we have the chance to help keep this automotive spirit alive during this transition.
So when you're not working, where can we find you? What are your hobbies, or what do you like to do for fun?
Well, my wife and I have a daughter who is almost two years old who keeps us very busy — always on the move. I am also a movie enthusiast. So in the evenings you can find me on the couch watching movies. But if I really want to disconnect, you will find me listening to music or practicing the piano or guitar. That's where I can really lose myself, when I have the time. I do side projects for myself, like exploring new CAD programs to learn new skills. I am also always online searching and researching new technologies.
What are your biggest career goals?
I would love to get back into the automotive industry at some point, maybe doing design management in a big automotive company. But at the same time, working at a place like MODYN makes me think twice — I have friends in the automotive industry who have to deal with bad working atmospheres.
At MODYN, it's just different because it feels like a big family. They're warm and welcoming and the connection is great. I actually consider all my colleagues here friends, which isn't something I've really experienced in the past. Here you also really feel like they care about you and that you're a strong asset.
So, who knows. Maybe MODYN will even get a car! Although, I think just about everyone here would love to be on a project like that. Everyone at MODYN is passionate about design and cars — so we may have to fight it out.
Be sure to connect with Bart on Linkedin.