New Employee: Wies van Wieringen
Some people like to keep busy. Then there are people like Wies van Wieringen. Our newest Senior Creative Engineer, Wiess is the kind of person who can't help but pursue all of their interests at once, which is a big reason why she loves stroller design so much. 
"That's also why I always liked stroller products, because there's so much to it. The experience is very important, from the mechanisms to compliance and the hardware, like the tactile feeling of the plastic parts, tubes and fabrics."
Excited to join our team and work in the larger mobility design industry, Wies says she's looking forward to the opportunity to dive into so many of her passions and flex her expertise on a range of mobility products.
"You know, I'm not a die-hard engineer, I love concept design, too. And in my free time, I work with a lot of fabrics, designing my own clothes and furniture line. I'm really looking forward to working in mobility design because there's a lot of user experience there, and the more complexity, the more exciting it is to work on."
Where we pick up on our conversation, Wiess tells us about her connection to mobility design and how MODYN became the natural next big step in her career. 
"Well, I worked at Bugaboo for years as a product developer. The company was growing fast and I helped with the design process development — and I loved that for a while because there was a lot of autonomy. Then I went into real product development there, working on strollers. But eventually I was working much more on the engineering, and it wasn't as fulfilling, because I really loved the initial concept phases. 
It wasn't long after that when I went to JOOLZ, and it's there where I got to work much more with fabrics, which is what I spend a lot of my free time working on. From there I continued to freelance, also working on a range of products with a range of clients. But, I was excited to work at MODYN because I've worked quite a long time at companies where the main focus is on strollers."
So would you say strollers are your favorite kind of mobility product to work on? Or are you excited to sink your teeth into something else?
"It's a really nice product to work on because it's so complex because it's a children's product and a parent's product. So there's a really great opportunity to create value for the consumer from different perspectives. But, I am looking forward to working on mobility in the broader sense and gaining more experience. I don't like working on machines, I love the complexity of consumer products. That's the most fun to work on, for me. And I think there's a lot of great opportunity in mobility design to create these impactful consumer products."
We know your job title — Senior Creative Engineer. But, tell us what you do at MODYN. What's your day-to-day like so far?
"Right now I'm working on just one project, which admittedly is a bit difficult for me because I like to stay busy. But, I know it's going to pick up. So, yeah, I am doing a lot of surface modeling, discussing with the team how to solve differen puzzles. I've also worked with Mandy and Viktorija a bit — it was cool to get asked my opinion about different fabrics since that's something I love."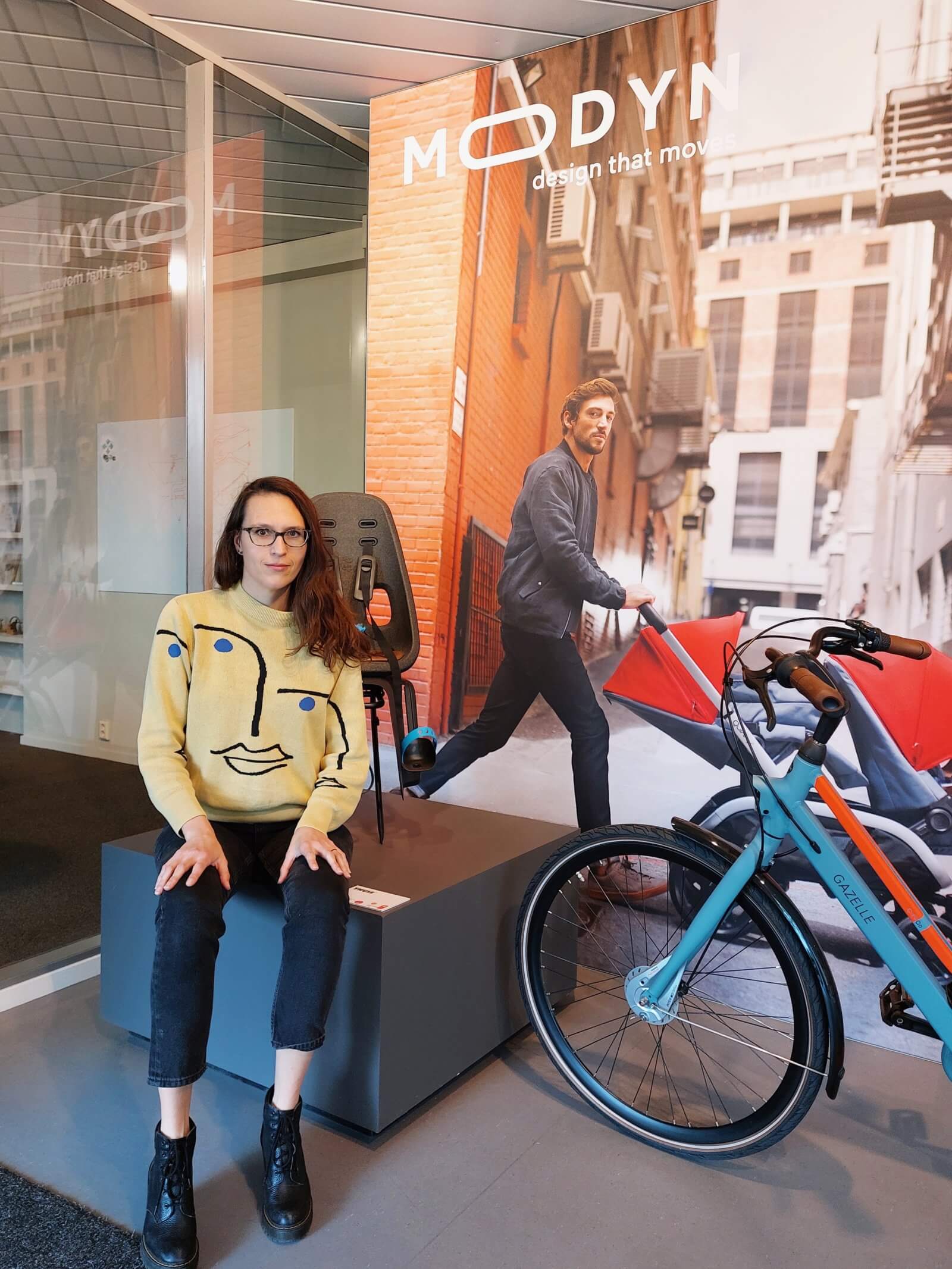 Why were you interested in working for MODYN specifically?
"I actually followed MODYN for years. It's a small world, so they stood out, especially because I heard a lot of good things about them as a team. And that's rare, to not really hear any complaints or internal chit-chat. I really got the sense that they were a good team and good people. I think MODYN has a good balance between what they show the world and what they actually achieve."
What do you think about the job so far?
"Well, the team is all kind and open, which is also something I think is rare, because I've worked at a lot of companies. At MODYN, it's also quite a flat structure, which I appreciate. Everyone is just free to be who they are and there aren't really politics. So far, so good! I'm really just excited to dive deeper into more projects."
So when you're not working, where can we find you? What are your hobbies, or what do you like to do for fun?
"I have two little ones, and I'm currently blending my family with my partners', so I feel like we've been extra busy lately! But it's also a really fun and exciting time, and rewarding. And like I touched on before, I really enjoy working with fabrics, and designing furniture is actually a huge passion of mine. I have a lot of sketches at home and I would love to have a business designing, building and selling my own furniture one day. I also love designing clothing, which is something I learned from my mom. I'm always creating new patterns and designs."
Finally, what are you obsessed with in mobility design right now?
"I think I'll always be a bit obsessed with strollers, and I think that's because there's so much opportunity design-wise. There are a lot of ugly strollers as well, so it's an interesting and complex challenge to design something that looks really nice and works well for the consumer without feeling complex at all."

Don't forget to say hi and connect with Wiess over on LinkedIn!